ELA Skills and Strategies Module
NEW!

ELA Skills and Strategies
Module
Reading Levels 2-8
ELA Skills and Strategies Module
NEW!

ELA Skills and Strategies
Module
Reading Levels 2-8
NEW!

ELA Skills and Strategies
Module
Reading Levels 2-8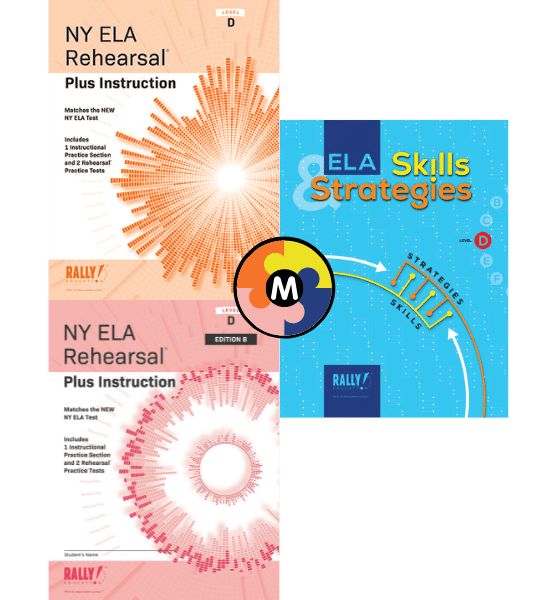 Product Samples & Information
NYC TEXTBOOK CONTRACT
NYSTL/FAMIS Approved
NYC Vendor #RAL-040000
NYC Contract #7000970
NYC SOFTWARE CONTRACT
NYSTL/FAMIS Approved
NYC Vendor #RAL040000
NYC Contract #R129801
NEW!

ELA Skills and Strategies
Module
Reading Levels 2-8
This Instructional Module is designed to prepare students for the NY Tests using benchmark and mastery assessments with instructional strategies to improve math problem-solving skills.
Pricing: $1099 SAVE $58! per Module
Includes a 25 copies of each title.
Includes Downloadable Teacher Guides.
Enough materials for 25 Students
These prices are the lowest prices for these products.
RALLY! Education is a sole source vendor.
You may also like…
NEW!

ELA Skills and Strategies®

Skills & Strategies to Master the New NY Next Generation Learning Standards!

Reading Levels 1-8
Print & Digital Formats

Learn More

NY ELA Rehearsal® Plus Instruction: ONLINE & PRINT

MIRRORS the NY Tests in Content, Format, and Question Types

Buy Rehearsal® with the Instructional Component of Your Choice

NEW! Now Available in 2 Editions per Grade Level!

Online: Grades 3-8
Print: Grades 2-8 Edition A or B

Learn More