Reaching for the New Reading Standards®
Reaching for the New Reading Standards®
Reading Comprehension Instruction for the New Reading Standards
Reading Levels 1-8
Reaching for the New Reading Standards®
Reaching for the New Reading Standards®
Reading Comprehension Instruction for the New Reading Standards
Reading Levels 1-8
Reaching for the New Reading Standards®
Reading Comprehension Instruction for the New Reading Standards
Reading Levels 1-8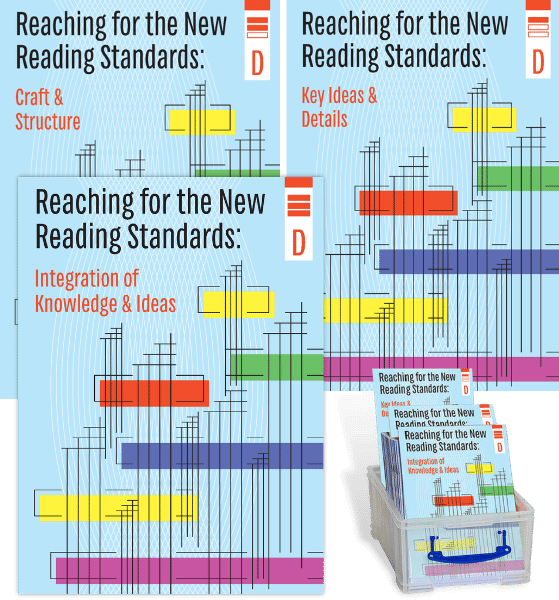 Product Samples & Information
NYC TEXTBOOK CONTRACT
NYSTL/FAMIS Approved
NYC Vendor #RAL-040000
NYC Contract #7000970
NYC SOFTWARE CONTRACT
NYSTL/FAMIS Approved
NYC Vendor #RAL040000
NYC Contract #R129801
Reaching for the New Reading Standards®
Reading Comprehension Instruction for the New Reading Standards
Reading Levels 1-8

A 3-book reading comprehension instructional series designed to teach students how to identify, understand, and integrate reading comprehension techniques.

(Grade 1: All in one book. Grades 2-8: 3 separate books.)

Evidence-based responses require the student to engage deeply within the text to read and re-read to formulate their answers.

Extensive Teacher Guide with instructional strategies, pacing guide, and scoring rubrics.

Reading Level 1
Pricing: $379
one book 320 pages (all 3 books are in one book) - 15 copies

Reading Level 7-8
Pricing: $479 per Program
Reading Level 2-6
Pricing: $524 per Program
Program: 15 copies of 3 books (45 books)
Includes Downloadable Teacher Guide

These prices are the lowest prices for these products.
RALLY! Education is a sole source vendor.
You may also like…
Mastering Reading with Test-Taking Strategies

Module

Reading Levels 1-8

Learn More

NEW!

Focus on Reading Success®

A Continuous Path Of Instruction, Review, & Reinforcement

Module

Reading Levels 2-8

Learn More