Complex Reading in Context Comprehension Skills®: Vocabulary in Context
Complex Reading in Context Comprehension Skills®:
Vocabulary in Context
Scaffolded Reading Comprehension Instruction
Reading Levels 2-8
Complex Reading in Context Comprehension Skills®: Vocabulary in Context
Complex Reading in Context Comprehension Skills®:
Vocabulary in Context
Scaffolded Reading Comprehension Instruction
Reading Levels 2-8
Complex Reading in Context Comprehension Skills®: Vocabulary in Context
Scaffolded Reading Comprehension Instruction
Reading Levels 2-8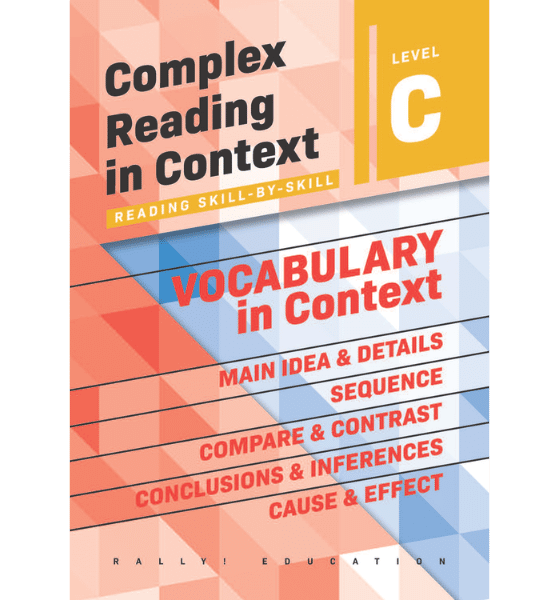 Product Samples & Information
NYC TEXTBOOK CONTRACT
NYSTL/FAMIS Approved
NYC Vendor #RAL-040000
NYC Contract #7000970
NYC SOFTWARE CONTRACT
NYSTL/FAMIS Approved
NYC Vendor #RAL040000
NYC Contract #R129801
Complex Reading in Context Comprehension Skills®: Vocabulary in Context
Scaffolded Reading Comprehension Instruction
Reading Levels 2-8

Students learn strategies to understand vocabulary in context.

Includes modeled and guided instruction for review and reinforcement

Pricing: $245 25-Pack
Includes Downloadable Teacher Guide

Pricing: $899 Digital Only
Site License per Grade Level per School
Unlimited access for one school year

These prices are the lowest prices for these products.
RALLY! Education is a sole source vendor.
You may also like…
Complex Reading in Context Comprehension Skills®

Scaffolded Reading Comprehension Instruction
in 7 Digital eBooks or 7 Printed Books per Level!

Module

Reading Levels 2-8

Learn More