Reading Carefully®
Reading Carefully®
Content-Area Reading with Unique Instructional Strategies
Reading Levels 2-8
Reading Carefully®
Reading Carefully®
Content-Area Reading with Unique Instructional Strategies
Reading Levels 2-8
Reading Carefully®
Content-Area Reading with Unique Instructional Strategies
Reading Levels 2-8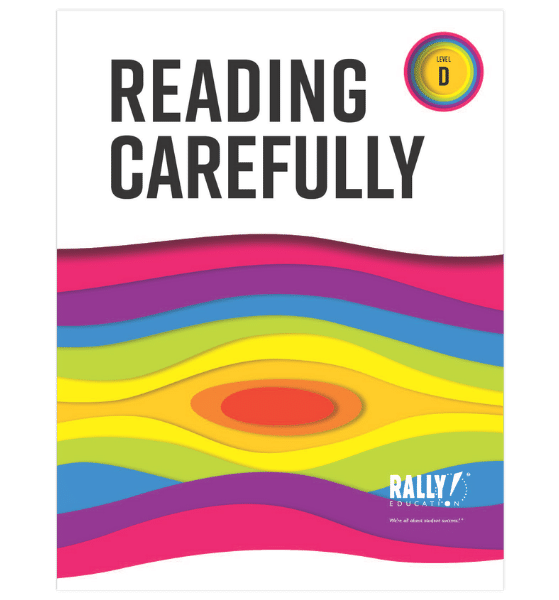 Product Samples & Information
NYC TEXTBOOK CONTRACT
NYSTL/FAMIS Approved
NYC Vendor #RAL-040000
NYC Contract #7000970
NYC SOFTWARE CONTRACT
NYSTL/FAMIS Approved
NYC Vendor #RAL040000
NYC Contract #R129801
Reading Carefully®
Content-Area Reading with Unique Instructional Strategies
Reading Levels 2-8

Complex reading lessons build higher-order comprehension and writing skills. Tiered instruction builds higher-order thinking skills and reinforces reading, writing and analytical skills
Directed Reading – using Before-You-Read, While-You-Read, and After-You-Read strategies.
Read and Respond – science, social studies, and literary content build critical thinking skills.
Paired Selections – informational and literacy selections based on the same theme.
Pricing: $389 25-Pack
Pricing: $1399 100-Pack
Includes Downloadable Teacher Guide
These prices are the lowest prices for these products.
RALLY! Education is a sole source vendor.
You may also like…
Evidence-Based Writing by Genre & Theme

Writing Strategies using Genres & Themes to Improve Reading Comprehension

Module

Reading Levels 2-8

Learn More