Complex Reading in Context Comprehension Skills®: Compare & Contrast
Complex Reading in Context Comprehension Skills®:
Compare & Contrast
Scaffolded Reading Comprehension Instruction
Reading Levels 2-8
Complex Reading in Context Comprehension Skills®: Compare & Contrast
Complex Reading in Context Comprehension Skills®:
Compare & Contrast
Scaffolded Reading Comprehension Instruction
Reading Levels 2-8
Complex Reading in Context Comprehension Skills®: Compare & Contrast
Scaffolded Reading Comprehension Instruction
Reading Levels 2-8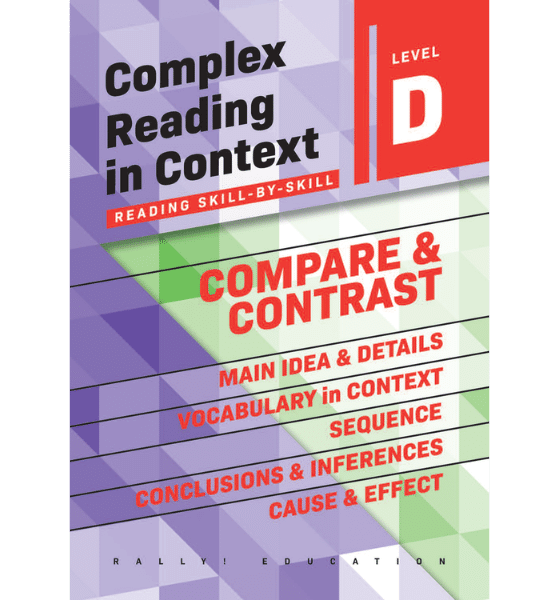 Product Samples & Information
NYC TEXTBOOK CONTRACT
NYSTL/FAMIS Approved
NYC Vendor #RAL-040000
NYC Contract #7000970
NYC SOFTWARE CONTRACT
NYSTL/FAMIS Approved
NYC Vendor #RAL040000
NYC Contract #R129801
Complex Reading in Context Comprehension Skills®: Compare & Contrast
Scaffolded Reading Comprehension Instruction
Reading Levels 2-8

Students learn strategies to understand compare and contrast.

Includes modeled and guided instruction for review and reinforcement.

Pricing: $245 Print Only
Enough materials for 25 students (per title per grade level)

Pricing: $899 (per title per grade level) Digital Only
Site License Grade Level per School
Unlimited access for one school year

These prices are the lowest prices for these products.
RALLY! Education is a sole source vendor.
You may also like…
Complex Reading in Context Comprehension Skills®

Scaffolded Reading Comprehension Instruction
in 7 Digital eBooks or 7 Printed Books per Level!

Module

Reading Levels 2-8

Learn More