Reading Instruction by Skill
Reading Instruction by Skill
Module
Reading Levels 3-8
Reading Instruction by Skill
Reading Instruction by Skill
Module
Reading Levels 3-8
Reading Instruction by Skill
Module
Reading Levels 3-8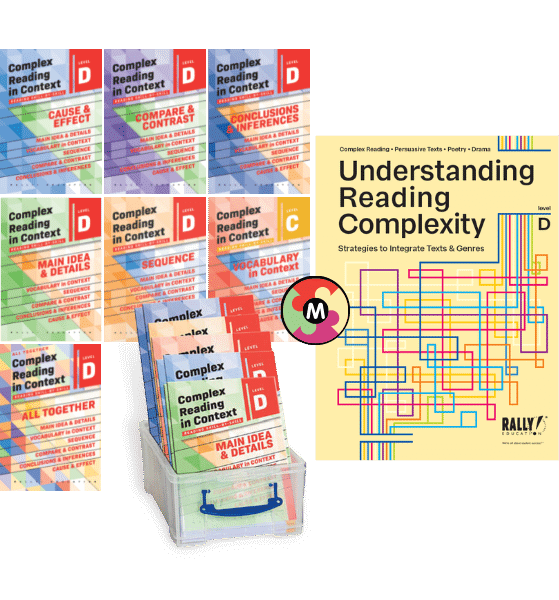 Product Samples & Information
NYC TEXTBOOK CONTRACT
NYSTL/FAMIS Approved
NYC Vendor #RAL-040000
NYC Contract #7000970
NYC SOFTWARE CONTRACT
NYSTL/FAMIS Approved
NYC Vendor #RAL040000
NYC Contract #R129801
Reading Instruction by Skill
Module
Reading Levels 3-8

Students develop reading fluency through the understanding of eight comprehension skills (Main Idea and Details, Vocabulary in Context, Sequence, Cause and Effect, Conclusions and Inferences, and Compare and Contrast).

This Instructional Module improves reading comprehension by integrating the eight reading skills with different genres using four styles of reading with vocabulary (poetry, drama, persuasive text, and complex reading).

Pricing: $916 SAVE $101 per Module
Includes 25-Pack of each book.
Includes Downloadable Teacher Guides.
Enough materials for 25 students

These prices are the lowest prices for these products.
RALLY! Education is a sole source vendor.
You may also like…
Complex Reading in Context Comprehension Skills®

Scaffolded Reading Comprehension Instruction
in 7 Digital eBooks or 7 Printed Books per Level!

Module

Reading Levels 2-8

Learn More

Understanding Reading Complexity®

Reading & Writing Instruction for a Variety of Genres

Reading Levels 3-8

Learn More