Understanding Mathematical Complexity®
Understanding Mathematical Complexity®
Multi-Step Complex & Real-World Math Problem Solving
Grades 3-8
Understanding Mathematical Complexity®
Understanding Mathematical Complexity®
Multi-Step Complex & Real-World Math Problem Solving
Grades 3-8
Understanding Mathematical Complexity®
Multi-Step Complex & Real-World Math Problem Solving
Grades 3-8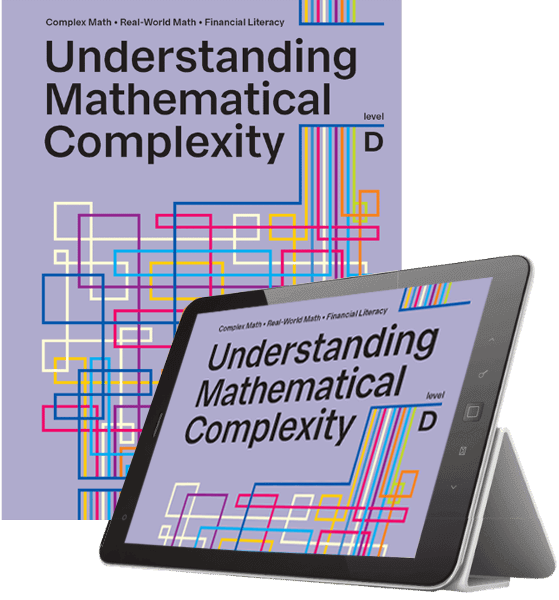 Product Samples & Information
Understanding Mathematical Complexity®
Multi-Step Complex & Real-World Math Problem Solving
Grades 3-8

Students learn processes and strategies on how to solve complex math problems. Students learn how to understand, interpret, and solve "real-world" scenarios and develop financial literacy.

Three units for focused instruction:
Math Process: students use the 5-Step Math Problem-Solving Plan to help them analyze, formulate a plan, and use strategies to answer math problems.
Math in the Real World: students learn how to solve "real-world" math problems.
Financial Literacy: students learn how to solve financial math problems including finance, saving and spending money, loans, interest rates, and more.
Pricing: $429 25-Pack Print Only
Pricing: $1629 100-Pack Print Only
Includes Downloadable Teacher Guides
Pricing: $899 Digital Only
Site License per Grade Level per School
Unlimited access for one school year
These prices reflect a School Discount of at least 25% off the List Price.
You may also like…
Complex Math Problem Solving

Module

Grades 3-8

Learn More