Instructional LAFS® Strategies Module
Instructional LAFS® Strategies Module
Choose Your LAFS® Test Simulation
Mirrors the FSA® in content, format & question type
Printed: Reading Levels 3-8
Online: Reading Levels 3-8
Instructional LAFS® Strategies Module
Instructional LAFS® Strategies Module
Choose Your LAFS® Test Simulation
Mirrors the FSA® in content, format & question type
Printed: Reading Levels 3-8
Online: Reading Levels 3-8
Instructional LAFS® Strategies Module
Choose Your LAFS® Test Simulation
Mirrors the FSA® in content, format & question type
Printed: Reading Levels 3-8
Online: Reading Levels 3-8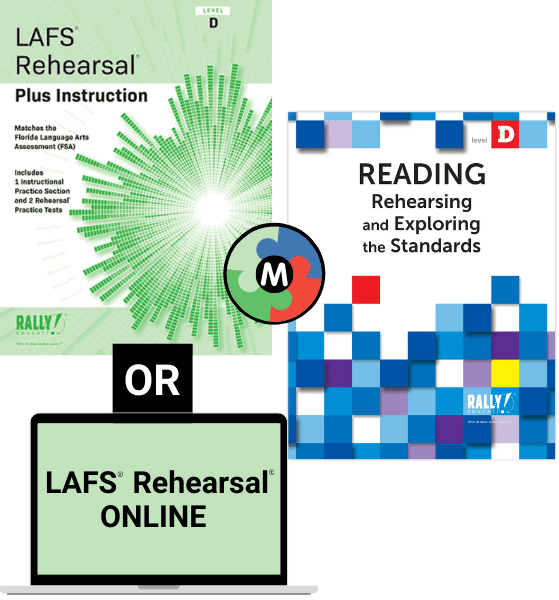 Product Samples & Information
Instructional LAFS® Strategies Module
Choose Your LAFS® Test Simulation
Mirrors the FSA® in content, format & question type
Printed: Reading Levels 3-8
Online: Reading Levels 3-8

LAFS Rehearsal® Plus Instruction: PRINTED BOOKS
OR

LAFS Rehearsal® Plus Instruction: ONLINE
with Instant Online Diagnostic Reports

Reading:Rehearsing and Exploring the Standards
Developed to provide extensive comprehension instruction, review, and reinforcement fo all of the standards. More than 100 selections with opportunities to write evidence-based responses. Extensive Teacher Guide provides instructional strategies, pacing calendars, and scoring rubrics.
PRINT
Pricing: $839 SAVE $89! per Module
Includes 25-Pack of each book.
Includes Downloadable Teacher Guides.
Enough materials for 25 students
ONLINE
Pricing: $789 SAVE $87! per Module
Includes online access for one school year.
Includes Downloadable Teacher Guide.
Enough materials for 25 students
These prices reflect a School Discount of at least 25% off the List Price.
You may also like…
Reading: Rehearsing and Exploring the Standards®

Comprehensive Strategies by Standard with Reading & Writing Instruction

Grades 2-8

Learn More

LAFS® Rehearsal® Plus Instruction: PRINT

Prepare Your Students for the Florida Standards Assessments®

Reading Levels 3-8

Learn More