Florida B.E.S.T. Math Rehearsal® Plus Instruction
NEW!

Florida B.E.S.T. Math Rehearsal® Plus Instruction
MIRRORS the FAST

Copyright© 2024
Printed & Digital Versions: Grade Levels 3-8
Florida B.E.S.T. Math Rehearsal® Plus Instruction
NEW!

Florida B.E.S.T. Math Rehearsal® Plus Instruction
MIRRORS the FAST

Copyright© 2024
Printed & Digital Versions: Grade Levels 3-8
NEW!

Florida B.E.S.T. Math Rehearsal® Plus Instruction
MIRRORS the FAST

Copyright© 2024
Printed & Digital Versions: Grade Levels 3-8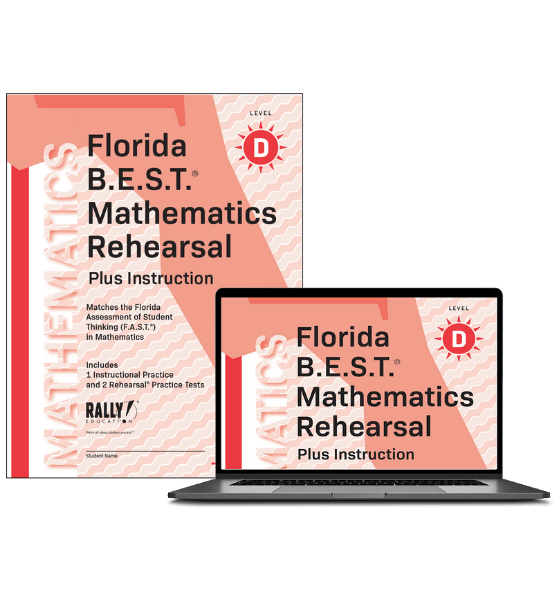 Product Samples & Information
NEW!

Florida B.E.S.T. Math Rehearsal® Plus Instruction
MIRRORS the FAST

Copyright© 2024
Printed & Digital Versions: Grade Levels 3-8
PRINT
Practice Tests that MIRROR the F.A.S.T. in content, format, and question type.
2 assessments per book PLUS instruction
Use as a Pretest and Posttest to diagnose student strengths and weaknesses for the FAST® Math Test.
ONLINE
"Real-time" data for targeted instruction.
Diagnostic Reports with instant online standards analysis.
Tracks progress by student, class, grade, and district.
Includes 2 assessments; Use the first for a benchmark and the second for mastery assessment.
Online content is the same as the printed books.
PRINT
Pricing: $429 25-Pack 
Pricing: $1639 100-Pack
Includes Downloadable Teacher Guide
ONLINE
Pricing: $11 per Student
Access per student for one school year.
Minimum 25 students
These prices reflect a School Discount of at least 25% off the List Price.
You may also like…
NEW!

B.E.S.T. Math Test-Taking Strategies®

Instruction & Math Test-Taking Strategies

Module

Print: Grade Levels 3-6
Online: Grade Levels 6-8

Learn More

NEW!

B.E.S.T. Standards & Math Problem-Solving Instruction

B.E.S.T. Math Instruction by Standard

Printed: Grade Levels 3-6
Online: Grade Levels 6-8

Learn More

NEW!

B.E.S.T. Math Rehearsal® Instructional Strategies

Problem-Solving Strategies by Math Domain, Clusters, & Standards

Module

Print: Grade Levels 3-6
Online: Grade Levels 6-8

Learn More