Evidence-Based Writing by Genre & Theme
Evidence-Based Writing by Genre & Theme
Writing Strategies using Genres & Themes to Improve Reading Comprehension
Module
Reading Levels 2-8
Evidence-Based Writing by Genre & Theme
Evidence-Based Writing by Genre & Theme
Writing Strategies using Genres & Themes to Improve Reading Comprehension
Module
Reading Levels 2-8
Evidence-Based Writing by Genre & Theme
Writing Strategies using Genres & Themes to Improve Reading Comprehension
Module
Reading Levels 2-8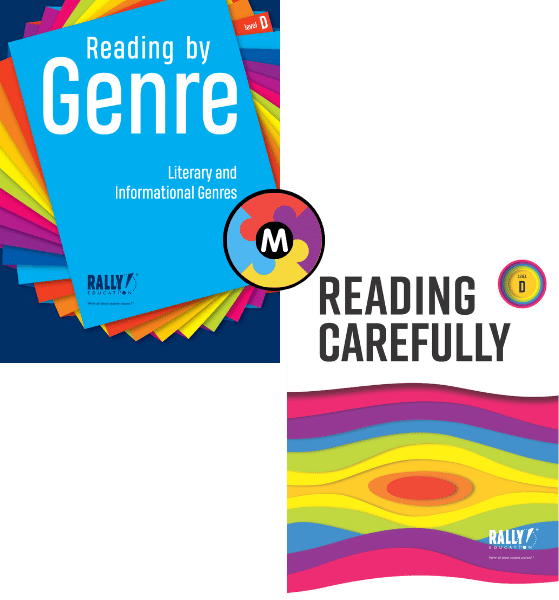 Product Samples & Information
NYC TEXTBOOK CONTRACT
NYSTL/FAMIS Approved
NYC Vendor #RAL-040000
NYC Contract #7000970
NYC SOFTWARE CONTRACT
NYSTL/FAMIS Approved
NYC Vendor #RAL040000
NYC Contract #R129801
Evidence-Based Writing by Genre & Theme
Writing Strategies using Genres & Themes to Improve Reading Comprehension
Module
Reading Levels 2-8

To build critical thinking and reading comprehension skills, students need to read a variety of texts using multiple genres. This Instructional Module focuses on literary and informational texts by genre plus close reading using paired passages.

Pricing: $739 SAVE $39! per Instructional Module
Includes a 25-pack of each book.
Includes Downloadable Teacher Guides.
Enough materials for 25 Students

These prices are the lowest prices for these products.
RALLY! Education is a sole source vendor.
You may also like…
Reading Carefully®

Content-Area Reading with Unique Instructional Strategies

Reading Levels 2-8

Learn More

Reading by Genre®

Strategies & Skills by Genre with Evidence-Based Writing

Grades 2-8

Learn More