Quest: ELL Literacy Program®
Quest ELL Literacy Program®
Mastering Reading, Writing, Listening, and Speaking for ELLs
Reading Levels 1-8
Quest: ELL Literacy Program®
Quest ELL Literacy Program®
Mastering Reading, Writing, Listening, and Speaking for ELLs
Reading Levels 1-8
Quest ELL Literacy Program®
Mastering Reading, Writing, Listening, and Speaking for ELLs
Reading Levels 1-8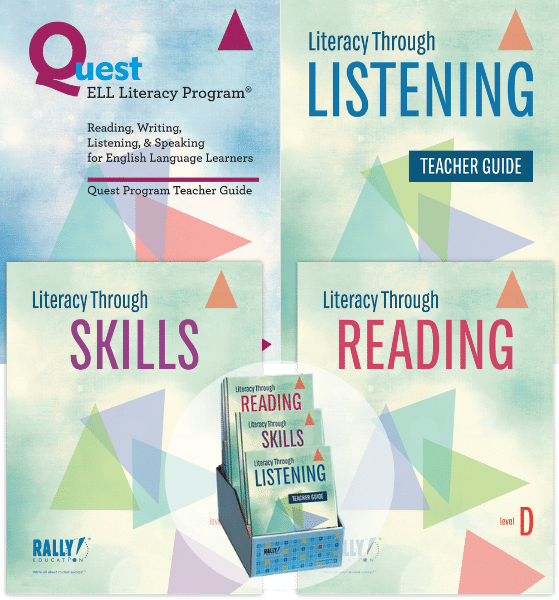 Product Samples & Information
NYC TEXTBOOK CONTRACT
NYSTL/FAMIS Approved
NYC Vendor #RAL-040000
NYC Contract #7000970
NYC SOFTWARE CONTRACT
NYSTL/FAMIS Approved
NYC Vendor #RAL040000
NYC Contract #R129801
Quest ELL Literacy Program®
Mastering Reading, Writing, Listening, and Speaking for ELLs
Reading Levels 1-8

A flexible instructional program designed to teach and help English Language Learners master listening, speaking, reading comprehension, and writing skills.

Includes 3 Instructional Components PLUS an Extensive Teacher Resource Guide:
Literacy Through Listening Teacher Guide with Companion Student Books
Literacy Through Skills
Literacy Through Reading
The Teacher Resource Guide provides an extensive overview of the instructional process and directions for using each instructional component (e.g., Paraphrasing, Non-Linguistic Representation, Cooperative Learning Groups, Writing Frames).
Pricing: $229 All in 1 book
Level A kit comes with 10 Student books (all 3 titles in one book)
Also includes an Extensive Teacher Resource Guide
Pricing: $499 per Program
10 copies of Student Books with 1 Teacher Guide for all 3 titles PLUS Extensive Teacher Resource Guide.
These prices are the lowest prices for these products.
RALLY! Education is a sole source vendor.