Mastering Math with Test-Taking Strategies
Mastering Math with Test-Taking Strategies
Module
Grades 2-8
Mastering Math with Test-Taking Strategies
Mastering Math with Test-Taking Strategies
Module
Grades 2-8
Mastering Math with Test-Taking Strategies
Module
Grades 2-8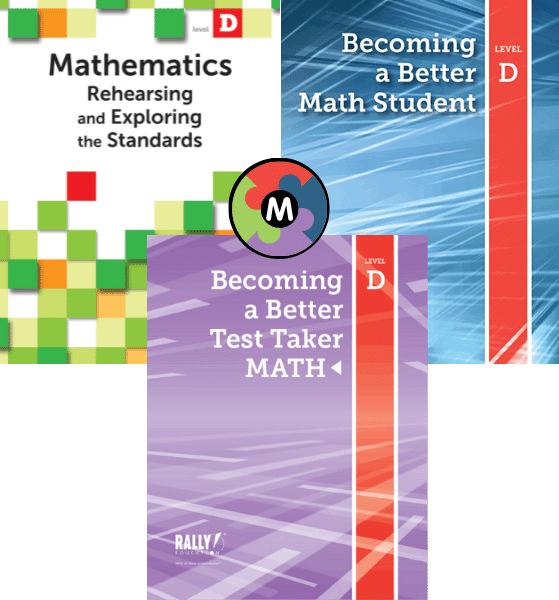 Product Samples & Information
NYC TEXTBOOK CONTRACT
NYSTL/FAMIS Approved
NYC Vendor #RAL-040000
NYC Contract #7000970
NYC SOFTWARE CONTRACT
NYSTL/FAMIS Approved
NYC Vendor #RAL040000
NYC Contract #R129801
Mastering Math with Test-Taking Strategies
Module
Grades 2-8

In order to master the math standards, students need standards-based instruction with test-taking skills. This Instructional Module provides students with strategies on how to answer complex math problems. Instruction by standard includes the 5-Step Math Problem-Solving Plan using modeled and guided instruction with independent practice. Test-taking strategies in a two-column format guide students through complex math problems.

Pricing: $987 SAVE $110 per Module
Includes 25-Pack of each book.
Includes Downloadable Teacher Guides.
Enough materials for 25 students

These prices are the lowest prices for these products.
RALLY! Education is a sole source vendor.
You may also like…
Becoming a Better Math Student®

Math Comprehension Strategies Using Standards-Based Questions

Grades 2-8

Learn More

Becoming a Better Test Taker: Math®

Strategies to Guide Students & Improve Test Scores

Grades 2-8

Learn More

Mathematics: Rehearsing and Exploring the Standards®

Intensive Instruction for all the Math Domains, Clusters, and Standards

Grades 2-8

Learn More