Instruction by Standard with Test-Taking Strategies
Instruction by Standard with Test-Taking Strategies
Module
Reading Levels 2-8
Instruction by Standard with Test-Taking Strategies
Instruction by Standard with Test-Taking Strategies
Module
Reading Levels 2-8
Instruction by Standard with Test-Taking Strategies
Module
Reading Levels 2-8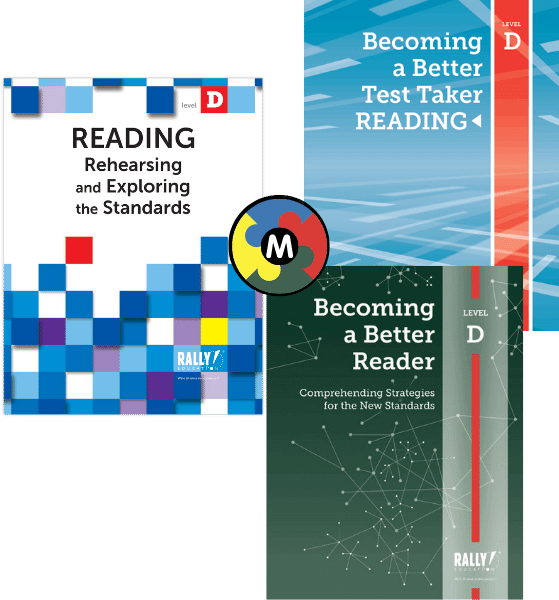 Product Samples & Information
NYC TEXTBOOK CONTRACT
NYSTL/FAMIS Approved
NYC Vendor #RAL-040000
NYC Contract #7000970
NYC SOFTWARE CONTRACT
NYSTL/FAMIS Approved
NYC Vendor #RAL040000
NYC Contract #R129801
Instruction by Standard with Test-Taking Strategies
Module
Reading Levels 2-8

This Instructional Module is designed to improve the skills and strategies needed to prepare for the Next Generation Learning Standards through comprehension, instruction, review, and reinforcement of the reading standards. Guided reading instruction and test-taking strategies build skills to use Before, During, and After Reading.

Pricing: $901 SAVE $100 per Instructional Module
Includes a 25-Pack of each book.
Includes Downloadable Teacher Guides.
Enough materials for 25 students

These prices are the lowest prices for these products.
RALLY! Education is a sole source vendor.
You may also like…
Becoming a Better Test Taker: Reading®

Strategies to Guide Students & Improve Test Scores

Reading Levels 2-8

Learn More

Reading: Rehearsing and Exploring the Standards®

Comprehensive Strategies by Standard with Reading & Writing Instruction

Grades 2-8

Learn More

Becoming a Better Reader®

Comprehension & Test-Taking Strategies for each of the Reading Standards

Reading Levels 1-8

Learn More