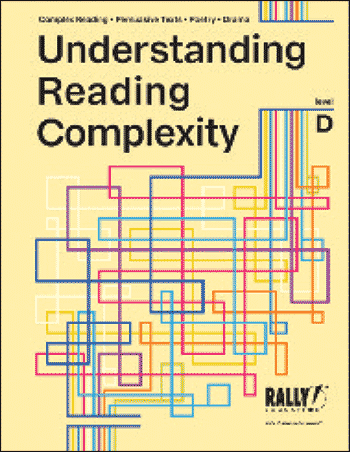 Product Samples and Information
Want to see more sample books?
CALL US: 888.99.RALLY
Understanding Reading Complexity
Understanding Reading Complexity
Reading & Writing Instruction for a Variety of Genres
Reading Levels 3-8
Pricing: $389

NOW! $194.50

 25-Pack
Pricing: $1399

NOW! $699.50

 100-Pack
Includes Downloadable Teacher Guide
Reading & Writing Instruction for a Variety of Genres
Reading Levels 3-8
Students learn how to understand, interpret, and analyze a variety of different types of reading, and apply evidence-based responses.
Four different styles of reading with vocabulary:
Complex Reading: students are asked to draw conclusions and make inferences based on details and themes using evidence-based responses.
Persuasive Text: students learn different types of persuasive text and how to write them.
Poetry: students read different types of poetry and write evidence-based responses.
Drama: students learn how to analyze different aspects of drama: character interaction, plot, and dialogue.
Pricing: $389

NOW! $194.50

 25-Pack
Pricing: $1399

NOW! $699.50

 100-Pack
Includes Downloadable Teacher Guides
These prices are the lowest prices for these products. RALLY! Education is a sole source vendor.
Related Product Modules or Individual Products to Purchase
Choose Reading Level: Level 3, 25-or-100-packs: 25-Pack

$

194.50