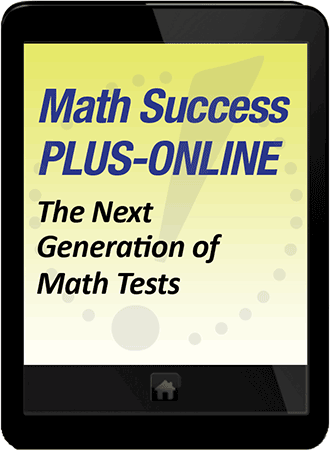 Math Success Plus Online
Math Success Plus Online
Online Multi-Step Math Problems to Prepare for Your State Test
Grades 3-8
Pricing: $5.95 per student
2 Forms
Unlimited access for one year
Minimum 25 students
Online Multi-Step Math Problems to Prepare for Your State Test
Grades 3-8
A variety of online multi-step math problems to prepare students for the types of complex questions found on the Next Generation Learning Standards with Instant Online Reports.
New interactive features include Note Taking, Eliminate Answer, Review, and more!
Interactive complex multi-step math problems include:
Two-Part Math Problems (students answer two-part questions)
Short-Response, Multi-Step Problems (students type responses in the space provided)
Drag & Drop Problems (students use the drag & drop function to respond)
Multi-Response, Multiple-Choice Problems (students click on correct responses; there are several correct responses)
Includes Instant Online Reports
Pricing:

$5.95

per student
2 Forms
Unlimited access for one year
Minimum 25 students
These prices reflect a School Discount of at least 25% off the List Price.