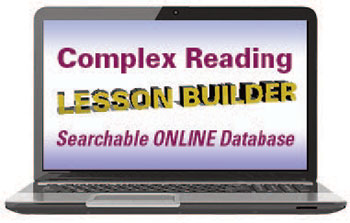 Product Samples and Information
Want to see more sample books?
CALL US: 888.99.RALLY
Complex Reading Lesson Builder
Complex Reading Lesson Builder
Online Database with Searchable Skills & Question Types
Reading Levels 2-8
Pricing: $4500

NOW! $2250

 All Reading Levels
One year of unlimited access per school for purchased grade levels.
Search by Skill with Printable PDFs
Online Database with Searchable Skills & Question Types
Reading Levels 2-8
Site license for reading comprehension skills all in one database by reading level!
Teachers search by skill, reading level, passage type, question type, and genre to create reading skills lessons.
Lessons are downloaded and printed for student use.
– Main Idea & Details
– Vocabulary in Context
– Sequence
– Compare & Contrast
– Conclusions & Inferences
– Cause & Effect
Lessons are scaffolded. They increase in complexity and readability levels.
Teachers can differentiate instruction by reading level for each student.
Use for classroom instruction, intervention, and tutorials.
Pricing: $4500

NOW!$2250

 All Reading Levels
One year of unlimited access per school for purchased grade levels.
Search by Skill with Printable PDFs
These prices reflect a School Discount of at least 25% off the List Price.