Math: Rehearse • Master • Excel®
Math: Rehearse • Master • Excel®
Paced for Instruction • Measures Progress
Module
Grades 3-8
Math: Rehearse • Master • Excel®
Math: Rehearse • Master • Excel®
Paced for Instruction • Measures Progress
Module
Grades 3-8
Math: Rehearse • Master • Excel®
Paced for Instruction • Measures Progress
Module
Grades 3-8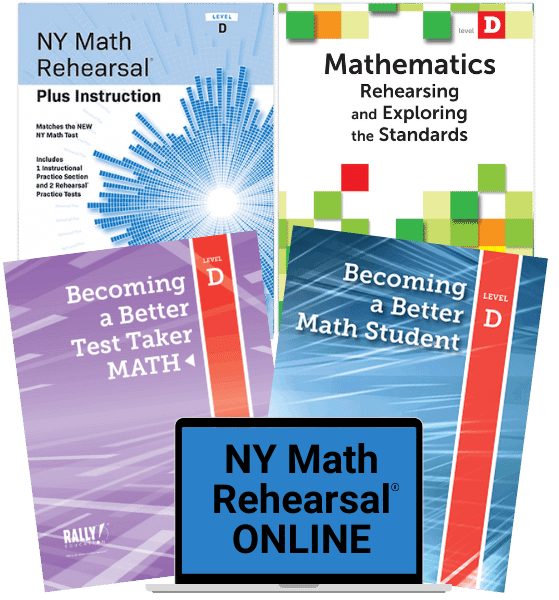 Product Samples & Information
NYC TEXTBOOK CONTRACT
NYSTL/FAMIS Approved
NYC Vendor #RAL-040000
NYC Contract #7000970
NYC SOFTWARE CONTRACT
NYSTL/FAMIS Approved
NYC Vendor #RAL040000
NYC Contract #R129801
Math: Rehearse • Master • Excel®
Paced for Instruction • Measures Progress
Module
Grades 3-8


The NY Next Generation Learning Standards require students to learn "real world" complex mathematical concepts.

MATH: Rehearse • Master • Excel prepares students for the rigors on the New NY Math Test by building specific strategies to master these standards.

Using the method of direct instruction, review, and test simulation, students learn a Step-by-Step Math Problem-Solving Plan to reinforce their understanding and deepen learning.

Pricing: $44 - SAVE 20%! All Printed Books per Student

Pricing: $44 - SAVE 20%! Online & Printed Books per Student
A year-long program:
Approx. 113 instructional sessions
Minimum 25 students

These prices are the lowest prices for these products.
RALLY! Education is a sole source vendor.
You may also like…
NY Math Rehearsal® Plus Instruction: ONLINE & PRINT

MIRRORS the NY Tests in Content, Format, and Question Types

Buy Rehearsal® with the Instructional Component of Your Choice

NEW! Now Available in 2 Editions per Grade Level!

Online: Grades 3-8
Print: Grades 2-8 Edition A or B

Learn More