Close and Careful Reading®: Paired Selections
Close and Careful Reading®: Paired Selections
Complex Embedded Questions that Require Close & Careful Reading
Reading Levels 2-8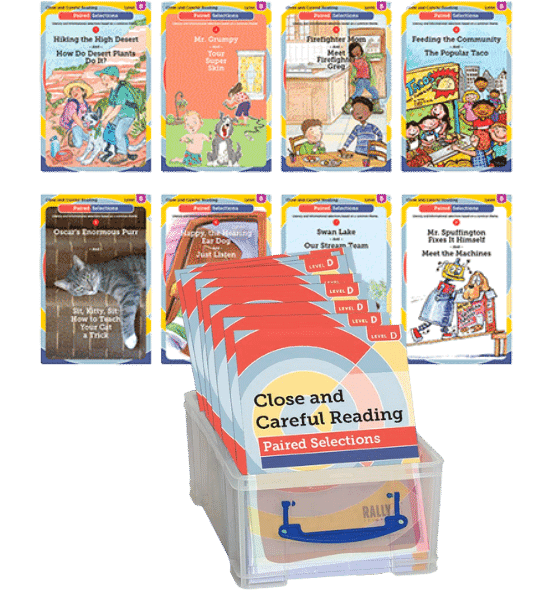 Close and Careful Reading®: Paired Selections
Close and Careful Reading®: Paired Selections
Complex Embedded Questions that Require Close & Careful Reading
Reading Levels 2-8
Close and Careful Reading®: Paired Selections
Complex Embedded Questions that Require Close & Careful Reading
Reading Levels 2-8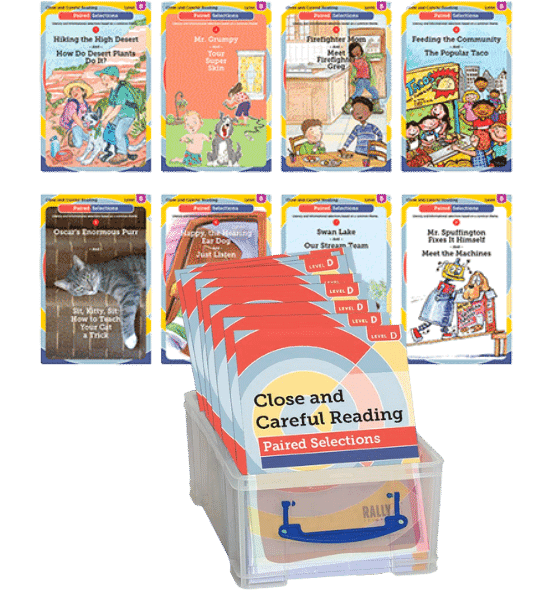 Close and Careful Reading®: Paired Selections
Complex Embedded Questions that Require Close & Careful Reading
Reading Levels 2-8

Two reading selections based on the same theme or topic: one informational selection paired with one literary selection.
Paired reading selections in each booklet.
Complex questions for EACH reading selection PLUS complex questions for the PAIR of reading selections.
6 copies each of 8 full-color booklets (48 booklets).
Extensive Teacher Guide with instructional strategies, pacing guide, and scoring rubrics.
Booklets included in Level D:
Booklet 1: Pearls for Pearl and Jewels of the Sea
Booklet 2: The Lesson of the Chopsticks and The Helping Hive Leads to Teamwork
Booklet 3: Erica's Magic and The Unicorn Myth
Booklet 4: A Day at the Zoo and Nature's Zoo
Booklet 5: The Special Trip and Give my Regards to Broadway
Booklet 6: Tyrie's Great Idea and Your Local Library
Booklet 7: Martians in the Neighborhood? and Volcanoes on Mars
Booklet 8: The Peaceful Husband and Modern Origami
Pricing: $299 per Kit
Kit: 6 copies of 8 booklets (48 total)
Includes Extended Teacher Guide
These prices reflect a School Discount of at least 25% off the List Price.