MAFS® Rehearsal® Plus Instruction: ONLINE & PRINT
MAFS® Rehearsal® Plus Instruction: ONLINE & PRINT
Prepare Your Students for the Florida Standards Assessments®
Grades: 3-8 PRINT
Grades: 6-8 ONLINE
MAFS® Rehearsal® Plus Instruction: ONLINE & PRINT
MAFS® Rehearsal® Plus Instruction: ONLINE & PRINT
Prepare Your Students for the Florida Standards Assessments®
Grades: 3-8 PRINT
Grades: 6-8 ONLINE
MAFS® Rehearsal® Plus Instruction: ONLINE & PRINT
Prepare Your Students for the Florida Standards Assessments®
Grades: 3-8 PRINT
Grades: 6-8 ONLINE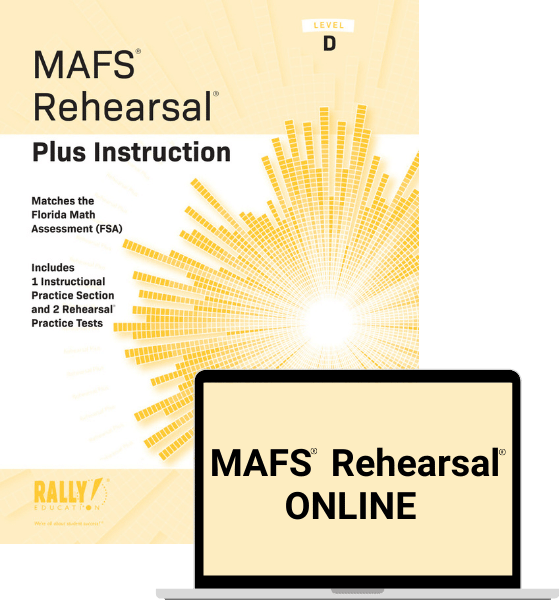 Product Samples & Information
MAFS® Rehearsal® Plus Instruction: ONLINE & PRINT
Prepare Your Students for the Florida Standards Assessments®
Grades: 3-8 PRINT
Grades: 6-8 ONLINE
2 assessments per book PLUS instruction
Use as a Pretest and Posttest to diagnose student strengths and weaknesses for the FSA®.
Digital version provides "real-time" Diagnostic Reports by standard and question type.
PRINT
Pricing: $329 25-Pack Pricing:
Pricing: $1249 100-Pack
Includes Downloadable Teacher Guide
ONLINE
Pricing: $11 for Form 1 & Form 2
Unlimited access for 1 year
Minimum 25 students
These prices reflect a School Discount of at least 25% off the List Price.
You may also like…
Rehearsal® Test-Taking MAFS® Strategies Module

Instructional & Test-Taking Strategies to Improve Math Problem Solving

Module

Print: Grades 3-8
Online: Grades 6-8

Learn More

Rehearsal® Instructional MAFS® Strategies

Math Problem-Solving Strategies by Standard

Module

Grades 3-8

Learn More

Math: Rehearse • Master • Excel®

Paced for Instruction • Measures Progress

Module

Grades 3-8

Learn More